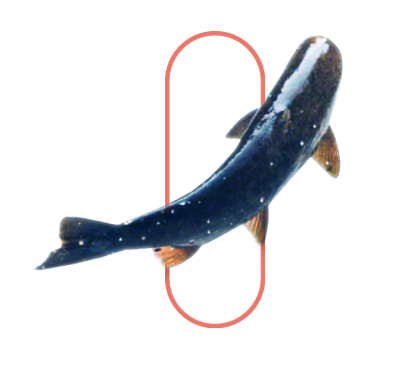 KEY FINDINGS*
Lifespan
Astaxanthin increased lifespan in an aging model organism (roundworm) and activation of the anti-aging gene FOXO3 in mice. NIH mouse lifespan study results with astaxanthin are expected to be published in 2023.
Joints + Muscles Health
Astaxanthin protects joints and muscles from inflammation and oxidative stress and has been shown to increase muscle strength and size in humans with age-related muscle loss and to preserve cartilage and muscle in animals.
Heart Health
Astaxanthin localizes in the heart and has been shown to reduce cholesterol, triglycerides, and blood pressure in human studies, protect heart tissue and vascular health in animal models, and improve metabolic function in humans and animals.
Brain Health
Astaxanthin crosses the blood-brain barrier and has been shown to improve performance in human cognitive tests of attention, memory, and information processing and to slow brain aging and increase neuroplasticity and neurogenesis in animals.
Skin Health
Astaxanthin helps to protect skin from oxidative damage caused by UV light and has been shown to reduce wrinkles, restore moisture content, and improve elasticity in human studies and to improve measures of skin health in animals.
Eyes Health
Astaxanthin crosses the blood-retinal barrier, protecting retinal cells from free radicals and inflammation, and has been shown to improve visual acuity, tear production, and other measures of eye health in humans and animals.
*This is a summary of key research findings related to astaxanthin. No product benefit claims are being made herein.
As we age, our body's natural antioxidant defenses slow down, driving chronic inflammation and diminishing overall health.
Healthy Cell
Normal Cell Function
Stressed Cell
Attacked by Reactive Oxygen Species (ROS)
Unhealthy Cell
Overcome by Reactive Oxygen Species (ROS)
INFLAMMATION RISKS
Chronic inflammation diminishes whole body health and longevity.
It's been scientifically established that chronic inflammation is at the heart of most health conditions affecting adults today, even aging itself.
HOW ASTAXANTHIN WORKS
ASTAXANTHIN RESTORES CELLULAR HEALTH
CELLULAR HEALTH
Healthier cells result in a healthier body.
Astaxanthin is powerful and safe antioxidant that's distributed to cells throughout the body, supporting health and longevity by fighting chronic inflammation at its source.
ASTAXANTHIN VS OTHER ANTIOXIDANTS
Not all antioxidants are created equal.
Astaxanthin's unique molecular structure makes it highly effective at scavenging reactive oxygen species and maintaining cellular membrane integrity.
KEY FACTS
Astaxanthin is nature's most powerful antioxidant, with more free radical scavenging power than Vitamin C, Vitamin E, and β-Carotene.
Astaxanthin spans cellular membranes and functions as a lipid and aqueous phase antioxidant, fighting free radicals both inside and outside the membrane.
Astaxanthin stablizes cellular membranes, unlike other antioxidants that can cause membrane disruption (such as β-Carotene and Vitamin E) or don't even localize in cellular membranes (such as Vitamin C).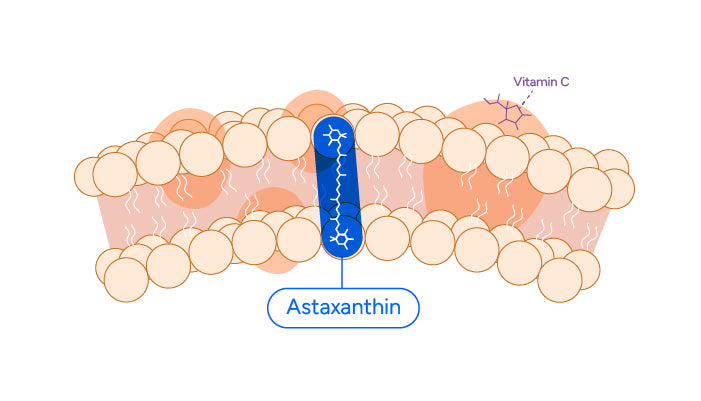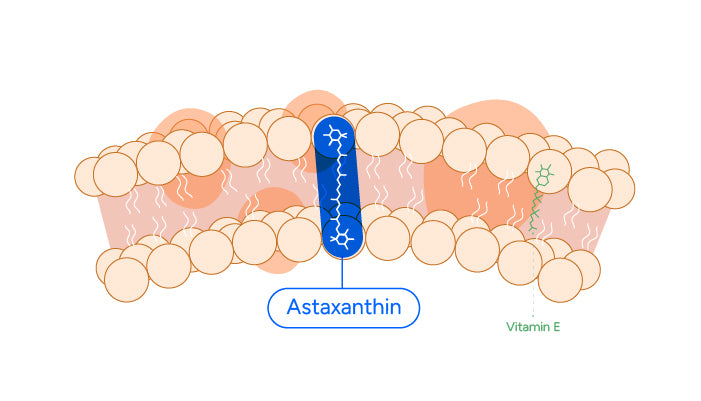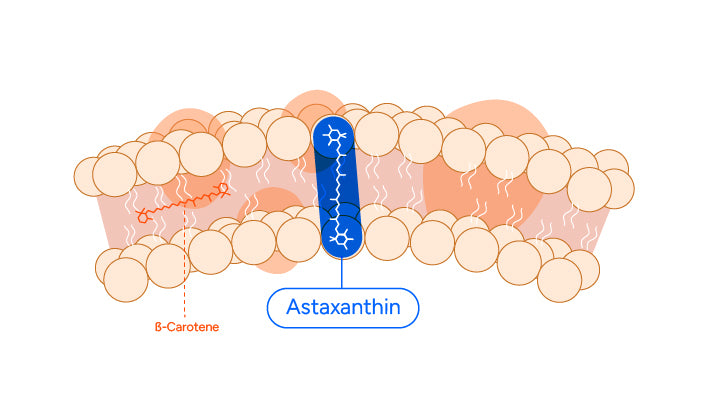 6,000x
stronger than Vitamin C
550x
stronger than Vitamin E
40x
stronger than β-Carotene
ASTAXANTHIN VS ANTI-INFLAMMATORIES
Common anti-inflammatories are not suited to fight inflammaging.
Battling chronic inflammation requires daily action, but common anti-inflammatories are not up to task due to the risk of side effects associated with chronic use.
KEY FACTS
Common anti-inflammatories target inflammation unnaturally — either by acting downstream without addressing the root cause or by shutting down the immune system. This may be fine for short-term use, but it's not safe for long-term use.
Astaxanthin safely and naturally targets inflammation and its source, restoring cellular health and allowing the body to function normally.
Choosing a selection results in a full page refresh.
Opens in a new window.